I was saddened a couple of weeks ago when I learned the Penny Powers vs the Maniacal Meatloaf Monster was canceled. It looked to be a great all-ages comic book featuring a strong female lead. You don't find too many books like this and when I read the description I knew it would be great for my son and daughter. I am happy to report that it has been
relaunched
, with a smaller funding goal, with a switch to softcover to save on costs. It is already over 50% funded and you can order your own signed copy for only $15! There are other great tiers as well so please check this out so my kids can read this once it prints by clicking
here
. Did I mention she has a cat sidekick?
Pick of the Week:
Saga #35
- While we are left with a literal cliff-hanger, it appears that Brian K. Vaughan is about to bring together the various storylines that have been percolating for the past few issues. The Will is getting closer to finding the location of Prince Robot and his madness appears to be growing stronger. Meanwhile, Alana and Marko launch an ambitious plan that requires the cooperation of Prince Robot in order to rescue Hazel from where she is imprisoned. I feel like I'm racing towards the end of a Guy Ritchie film and all of these bizarre stories will come crashing together. Fiona Staples continues to deliver some of the best illustrations in the industry and we have an appearance of another Lying Cat. While this title is about as far away from an all-ages comic from the Kickstarter I mentioned in the open, this is a comic that should appeal to a wide variety of fans and is an excellent book to bring your non-comic reading friends into the fold.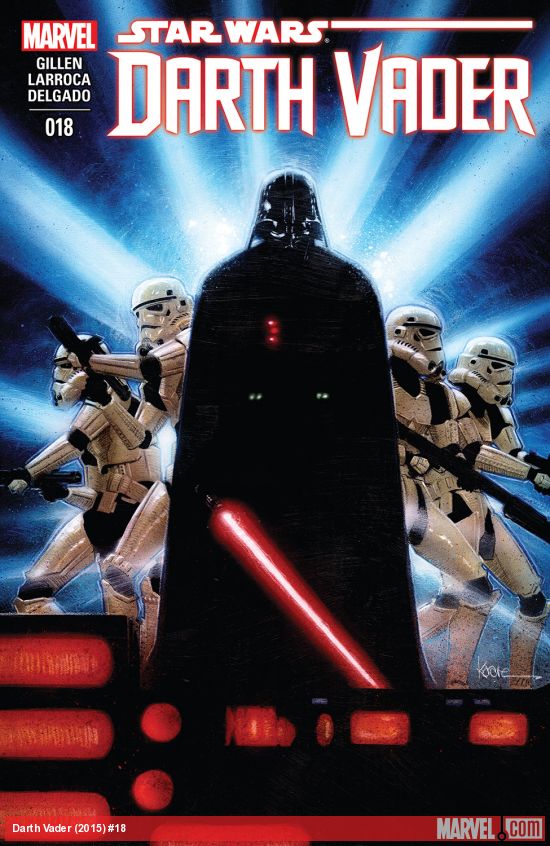 The Rest:
Darth Vader #18
- Vader is in quite a jam on the planet of Shu-Torun. He set up what he thought would be a supportive regime, only to have it backfire on him. I am sure he has a plan to finish what he started, but the most interesting development in this issue is what Dr. Aphra's droid, Triple-0, offered as a way to make the droids more effective in battle. This issue has the first sign of Battle Droids, but the issue is they are machines and thus not sensitive to the Force. Triple-O has designed an engine that runs on human blood, but fails to convince Vader that this is a good option. I am sure this will happen at some point, and am curious what a Force sensitive droid will entail.
Daredevil #5
- Charles Soule knows how to create tension. In the last issue we learned that Blindspot's mother was working as Tenfingers right hand lady. This issue tells us just how evil Tenfingers is, as he is willing to have his entire following executed after he fails to destroy the Fist, a monster he summoned and failed to stop. While Daredevil attempts to stop the Fist, Blindspot's mother is hell-bent on fulfilling Tenfingers request while Blindspot tries to save everyone. I don't want to spoil anything, but the ending leaves a bit of a divide between Daredevil and Blindspot. Should set up an interesting arc that will involve Electra. Soule had big shoes to fill after Mark Waid wrapped up his Daredevil run, and appears to be adequately prepared to carry the torch.
Teenage Mutant Ninja Turtles: Deviations #1
- This one-shot comic revisits the brilliant City Fall arc, which included Shredder brainwashing Leonardo. While Splinter and the other Turtles were able to save him, this comic asks the question what if all of the Turtles were brainwashed? In a very emotional issue, we witness the struggle as Splinter refuses to fight against his own sons. It is brutal at times, but a reminder to how strong of a character this rat is. In an interesting twist, Shredder's own daughter betrays him as she doesn't agree with the sudden promotion of the Turtles amongst his ranks. Without spoiling anything, Kevin Eastman, Bobby Curnow, & Tom Waltz pull off a great one-shot that anyone, even if you haven't been reading this stellar series, can enjoy.
POSTED BY MIKE N. aka Victor Domashev -- comic guy, proudly raising nerdy kids,
and Nerds of a Feather contributor since 2012.