I had the good fortune to check out Alamo City Comic Con last weekend and I have to say I am impressed with the crowds this convention drew. I got my wife a photo op with David Tennant and Billie Piper for our anniversary and was impressed with how Wolf Photography and the volunteers at ACCC ran things. Thanks for a memorable Saturday!
Pick of the Week:
Nailbiter #26
- While it is a bit early for a holiday special, I am thrilled beyond words that my favorite horror series is back. The dynamic of Charles Warren (the Nailbiter) and his former lover Shannon (the police officer currently holding him behind bars for kidnapping). Their conversation really provides a great overview of the series and creates a nice jumping on point for new readers. Warren is dealing with his own internal demons and seems like a good character despite the fact that he is truly a serial killer. Detective Finch was derailed on his attempt to return to Portland and now finds himself in the same predicament that brought him to Buckaroo in the first place. The only difference is that he is the one captured, not the one looking for his missing partner. Joshua Williamson hints at potential new secrets to be revealed in the next issue and I sure hope we don't have to wait another month!
The Rest:
Southern Bastards #15
- It has been too long since my last trip to Craw County and things aren't looking good to Coach Boss. After getting crushed by their rival on homecoming, the Running Rebs are looking to make the most out of their season. The mayor's wife isn't shy about mixing things up in an attempt to get Coach Boss fired, but if he can find a way to win then his job is secure. The seedy comic about high school football in the South is back and just as good as ever. This quote from Coach Boss pretty much sums up the series in a nutshell. After one of his "coaches" offers to hurt an opponent's star tight end before their game, he responds "I may be a murder and a gangster and a whole helluva lotta other fuckin' things. But not on Friday nights. Some things is Goddamn sacred, boy."
The Walking Dead #160
- Both sides are making strategic pushes as part 4 of The Whisperer War really brings the pain. Both sides are going to suffer major losses and it isn't entirely clear who we can trust. Lydia and Carl are bunking up (he is old in the comics!), but her mom was the leader of The Whisperers. Negan seems to be helping, but he is someone you can truly never trust. What is clear is that the loser of this one is going to be absolutely decimated.
Batman #10 - I really am giving the new Batman a go, but I just can't get into it. It is my DC staple so I imagine I will continue to read it, but it just doesn't have the punch that it once did. Batman is trying to free Psycho Pirate from Bane's stronghold on Santa Prisca. His mantra is that he needs to get Psycho Pirate to save someone otherwise he is going to break Bane's back. I nice throwback to when Bane actually broke Batman's back, but it did little to draw me into the story. Hopefully when they return to Gotham things will pick back up. Bane is also boring now that he is off the juice.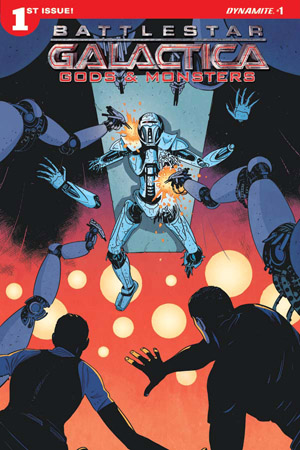 Battlestar Galactica: Gods and Monsters #1
- When I saw that Dynamite Comics was publishing a new Battlestar comic I got pretty excited. I loved the revamped series (minus the ending) and have enjoyed some of the previous iterations of comics. After reading this debut, which involves Gaius building a Cylon Centurion ala Dr. Frankenstein and his monster, I feel that it is probably time for Battlestar Galactica to take a long break. The spin-off Caprica was a disaster, the movie "The Plan" was awful, and this series first issue did nothing to capture the magic of what made the series great. If you want to revisit this world I highly suggest playing the board game, which is excellent and will make you feel as if you really are on the fleet and possibly a sleeper agent.
POSTED BY MIKE N. aka Victor Domashev -- comic guy, proudly raising nerdy kids,
and Nerds of a Feather contributor since 2012.