I think we can definitively say that this is the best week of new comics of 2016. This may have been the most difficult decision I have ever had to make in terms of what should be the pick of the week. I stand by my decision, but
Dept. H
and T
he Walking Dead: The Alien
were both brilliant as well. Sadly I haven't read my copy of
Divinity II #1
yet, but from what I have heard that would also be a contender. This week speaks to how innovative comics can be. We have a 10th anniversary special that is a beautiful homage to a staple in this industry, a digital pay what you want one-shot for a series with over 150 issues, and a stunning water colored mystery that takes place six miles under the sea. Good stuff.
Pick of the Week:
Criminal 10th Anniversary Special -
It is hard to believe that Ed Brubaker and Sean Phillips have been producing their crime noir series for 10 years. While I haven't read all of the past issues, I have enjoyed the vast majority of them and am pleased that Image is rereleasing all new editions of the entire library. You can tell that this is a series that Brubaker and Phillips are passionate about and that it is personal to them. The special focuses on a father who is trying to tie up some loose ends that might cause trouble for him. To help maintain a low profile, he enlists the help of his son who has the bad fortune of spending a lot of time alone in motel rooms while his father seeks out information. Criminal does an amazing job of humanizing violent and troubled offenders. At no point do you feel sympathy for the father, but the characters all feel real. As an added bonus, we are treated to a comic within the comic ala Watchmen. Elizabeth Breitweiser does an amazing job with the colors in this book, as the feeling of switching between our story and the comic that the child is reading is extremely immersive. Fang, the Kung Fu Werewolf is the comic in question, and it does a great job synching with the young boy's experience. I will be surprised if this title is not nominated for an Eisner next year, as it is a beautiful edition to this amazing series. Fans of crime novels and noir should really check this series out.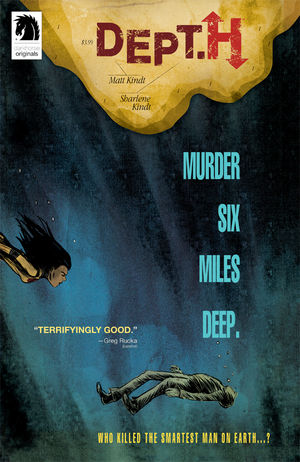 The Rest:
Dept. H #1
- Matt Kindt has teamed up with his wife, Sharlene, in a murder mystery set deep in the midnight zone of the ocean. Mia's father was murdered when he was stationed miles below the surface at Dept. H. Dept. H is a deep sea station managed by Underwater Science Exploration and Research (USEAR), a government organization who has been supporting Mia's father's research for over a century. Since the crime and the murderer are self-contained at the bottom of the ocean, Mia's friends urge her not to make the trip to the bottom of the ocean, but she knows the truth will haunt her. Featuring some of the most stunning water color work to grace the pages of a comic book, Sharlene's artistic chops really bring a sense of peace and horror to book. The ocean seems peaceful, yet heavy, and the potential suspects stationed at Dept. H all seem flawed, and likely candidates in this whodunit that has me mesmerized. This should fill the gap that has been missing in my pull list since the conclusion of Mind MGMT.
The Walking Dead: The Alien
- What a pleasant surprise! The
Panel Syndicate
, a creator owned DRM-free comics website, published a one-off Walking Dead story from the creative duo of Brian K. Vaughan and Marcos Martin. For the first time to my knowledge, we get a glimpse on an international level of the zombie apocalypse as our story opens in Spain. In "The Alien", which is confirmed as canon by Skybound, we meet Claudia and Jeff. Jeff is an American who wants to get back to the states to check on his brother in the hospital, and Claudia has a plan to get out of Europe, but needs something that Jeff possesses. After reading well over 100 issues of the Walking Dead featuring the art of Charlie Adlard, it was an interesting experience to see another artists take on this world. Brian K. Vaughan gives us another fabulous leading lady in Claudia and I hope she makes her way into the print series in the near future.
The Haunted Mansion #2
- When we left off, Danny Crowe had ventured into the Haunted Mansion in an attempt to set the spirit of his grandfather free. In another friendly nod to the ride, Danny makes his way into the Grand Hall. Much like the ride, our first glimpse into the party that is taking place is from up above as we peer down on the ghosts enjoying themselves. We learn more about the curses placed on the mansion by the Captain, the ghost in control of the building, and a bit more about the perils that Danny must overcome in order to help the residents who wish to be free. While not my favorite book, I love the nostalgia that this fun all-ages title provides.
Huck #6
- Mark Millar and Rafael Albuquerque's tale about the kind lad with super powers reached a very fitting conclusion. In what might be my shortest review, it was great to see this title come full circle and return to the warm and fuzzies it had early on. It took a dark turn, that was enjoyable, but it is nice to see things wrap up with daisies, kittens, and buttercups.
POSTED BY MIKE N. aka Victor Domashev -- comic guy, proudly raising nerdy kids,
and Nerds of a Feather contributor since 2012.