In a mere three days Preacher is going to make its television debut on AMC. Based on Garth Ennis' cult classic comic published by Vertigo, this series is likely to push the envelope in the television medium. I have read the first trade of this series and I really hope that the adaptation is faithful. Developed by Seth Rogan and Evan Goldberg, I feel that this series is in good hands. You can get to know some of the characters in the show in an exclusive video courtesy of
Fandom
.
Pick of the Week:
The Sixth Gun #49
- It may have been a long time since the last issue of the Sixth Gun, but it was well worth the wait. I took the time to re-read the series while I waited, and cannot wait to read the epic conclusion of Cullen Bunn's opus. A lot is revealed in the second to last issue, including what exactly Drake Sinclair is and why he is so closely connected to the guns. As this series progressed, we learn that he has played a role with the six in a variety of forms, but don't quite understand why. As Drake, Becky and the others work their way through hell to confront the Grey Witch, both sides are collecting their forces in what will be an epic finale. Old friends are reunited, but what has me the most intrigued is the bad blood between Oliander's crew and Jesup, who doesn't appreciate playing second fiddle after the role he played in getting the six from Sinclair. Something tells me he is going to play a huge role in the finale. Sad the pilot wasn't picked up and feeling a bit bummed that one of my favorite comics is reaching its end, but happy that Bunn gets to end this on his own terms and really looking forward to the final battle.
The Rest:
Civil War II #0
- We are apparently on the road to another civil war in the Marvel Universe. Based on the cover, Iron Man is going to square off against Captain Marvel. I am not sure what the ultimate divide will be, but it seems that it involves the treatment of Inhumans and former villains. There is still an air of distrust between humans and supers, and those with the most political power are trying to prop up like minded supers. This is merely setting the stage for this summer's big event, and I am not sure if I should care or not. I will have to wait until I read the first issue to make up my mind.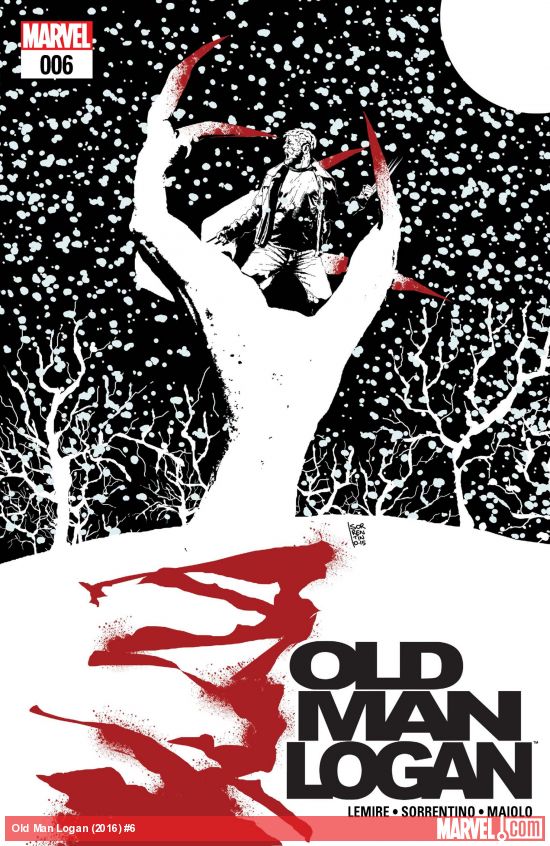 Old Man Logan #6
- The warm fuzzies from the last issue quickly vanish as we learn that, while attempting to care for Maureen, Logan has brought unspeakable horror to the people of this town. I'm not sure why the Reavers are pursuing Logan, but they include Bonebreaker, who would be a centaur, although in stead of his lower half being a horse, its a tank. It was pretty exciting to see how bad ass Logan still is, but I have no idea where this series is headed. Still enjoyable, I will maintain my faith in the great Jeff Lemire.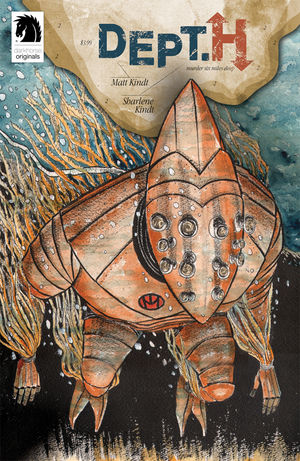 Dept. H #2
- Matt and Sharlene Kindt's underwater mystery continues with a stellar second issue. As Mia continues to investigate the murder of her father in his underwater lab, we learn that her brother, Raj, denies any foul play. We also learn that the two of them have a checkered past that goes back to an old research project that took place in outer space. While we aren't any closer to solving this mystery, we learn that someone wants to make sure that Mia can't communicate with the surface as she attempts to solve this mystery. Sharlene provides some of the most chilling imagery I have ever seen in a comic and her water colors really immerse you in this fantastic under water universe. It is very reminiscent to the toxic jungle in Miyazaki's Nausicaa in the Valley of the Wind in that it is both haunting and beautiful at the same time. The most visually stunning comic on the market currently and well worth your time.
POSTED BY MIKE N. aka Victor Domashev -- comic guy, proudly raising nerdy kids,
and Nerds of a Feather contributor since 2012.