Despite being over 50 days away, I am having a hard time avoiding the San Diego Comic Con hype and am starting to get antsy for my annual trek to the west coast. While I am bummed to learn that there will be no Nerd HQ this year and Nerdist appears to be scaling things back, you had the feeling in the past few years that at some point the off-site bubble would burst just a little and things would settle down a bit. If these announcements are a sign of this, I welcome it and hope those nerds making the trip without SDCC badges still have a good time.
Pick of the Week:
Redneck #2 - It might be due to the fact that I am a Texan, it might be due to the fact that I really enjoy stories set in the south, or it might be that this is a great twist on a standard vampire book that is a great read, but Donny Cates has a hit on his hands and I highly recommend picking up the first two issues and catching up. The Bowman's (the vampires) and the Landry's (a religious family led by Father Landry) have had their issues, but it reached a boiling point in the first issue when Slap, one of the Bowman boys, was found hanging from a tree following a night of debauchery from some of the Bowman family. This has only escalated tensions, and has spilled over to the local barbecue joint where some of the familiars (those who are on good terms with the vampires) worked. All hell breaks lose in the second issue and we start to learn a bit more about some of the characters who appear to have a much bigger part to play beyond the family feud. I am thinking Slap was caught up in some shady happenings that we will learn about as this series continues. If you are looking for a new series to hop on board before it is "cool" then I highly suggest checking Redneck out. Be warned it is not for the faint of heart.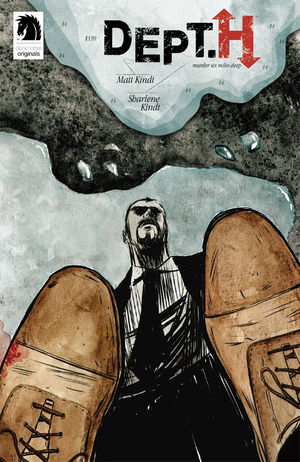 The Rest:
Dept. H #14
- Matt and Sharlene Kindt's underwater mystery continues this week as the remaining survivors of the crew attempt to surface despite the contagion they have been exposed to. We learn more about Jerome in this issue and what motivated him to partake in this underwater research. His advanced knowledge of viruses and cures led him to be recruited by various international powers. Apparently there was an effort made by the global powers to produce exclusive contagions to supposedly use as weapons. I doubt that Mia's father was wrapped up in this type of conspiracy, but if this is the case, then it isn't surprising that it led to his murder. I am finally starting to put some pieces together, but am far behind the curve and doubt I will solve this one on my own.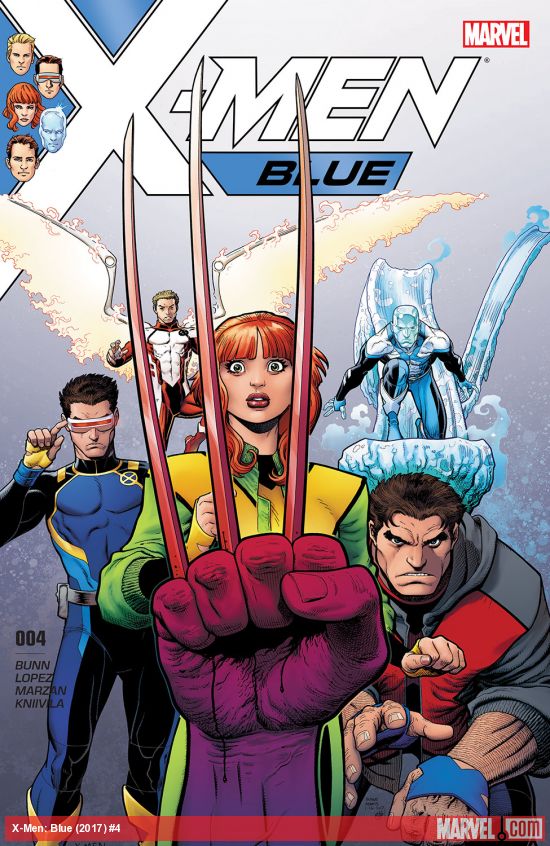 X-Men Blue #4
- We have contact from another dimension and a Wolverine in the house! Things get quite exciting in this issue, as the X-Men track down Wolverine's son after hearing reports of him killing people in the mountains in Colorado. Something isn't quite right with Jimmy (Wolverine's son) so the X-Men try to talk some sense into him and figure out what is going on. Their displacement in time is only creating new questions as they figure out their role and why they were brought here. While I don't know a lot about the reveal at the end of this issue, I am excited to see where a new arc will take us.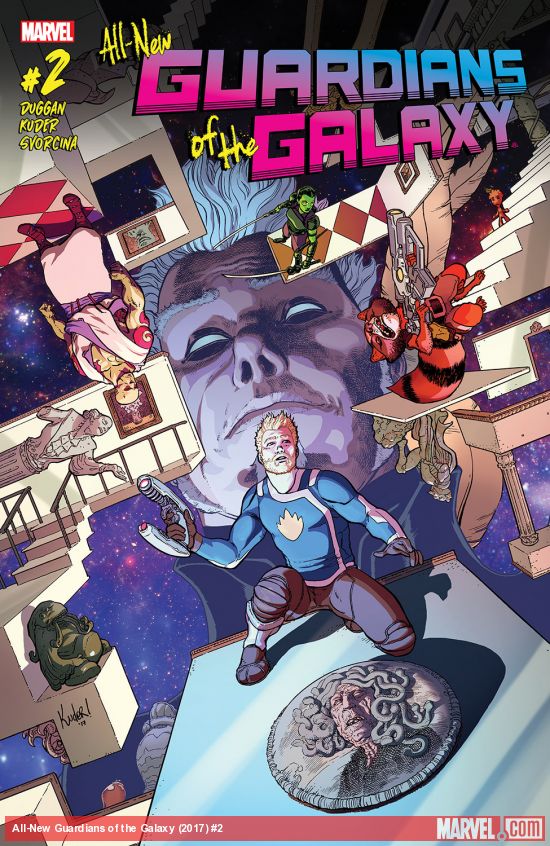 Guardians of the Galaxy #2
- Gerry Duggan is a great fit with this series and I have really enjoyed these first few issues. While not an avid Guardians comic book reader, I do enjoy the characters and Duggan's sense of humor (which included Deadpool killing a bunch of presidents) is making me enjoy them even more. The Guardians are attempting to steal a rare egg from The Collector in order to pay a debt. Stealing from The Collector is no easy feat, especially when for some odd reason Drax is no longer destroying anything. Mix in a planet that has loads of other Groot-like characters and you have some intrigue to really keep you interested in this team and their exploits. Definitely recommend this series to anyone who enjoyed the movies.
POSTED BY MIKE N. aka Victor Domashev -- comic guy, proudly raising nerdy kids,
and Nerds of a Feather contributor since 2012.