Not to step on the toes of our impending holiday gift guides, I wanted to introduce today's post and suggest that you give your loved one the gift of
Sweet Tooth
by Jeff Lemire. I am just finished my annual read through of this series and it never disappoints and it always feels new and beautiful. Even if someone on your list isn't a comic book fan, this is likely going to appeal to them.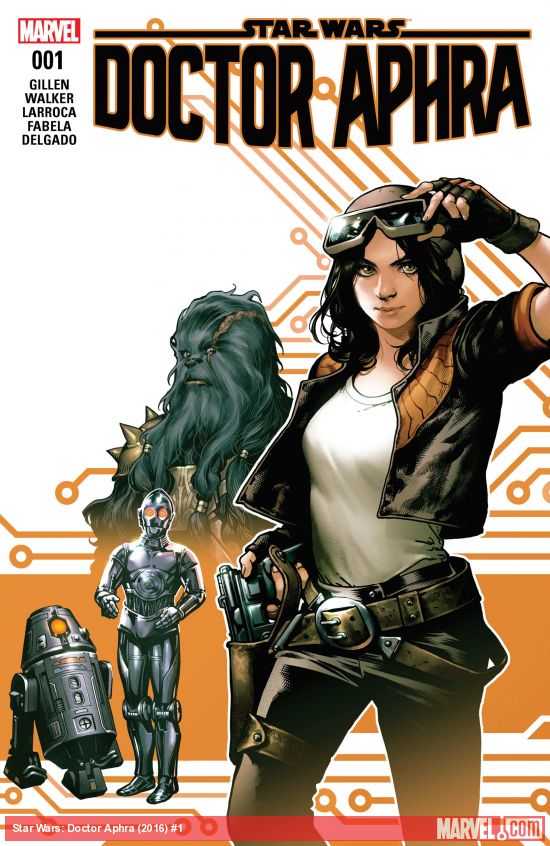 Pick of the Week:
Doctor Aphra #1
- This is the spin-off I have been waiting for ever since I was introduced to the good doctor and her two homicidal droids. After faking her death, she is free to return to her day job which is basically Indiana Jones in space, with questionable ethics. She is not in the artifact game to preserve anything, she is primarily interested in credits. In her debut solo issue, she claims one artifact, escapes the planet with the assistance of her murdering droids and Wookiee friend, and learns that she may not quite have the credentials she claims. Kieron Gillen is the perfect writer for this series and he delivered in full on issue #1. Now we are officially in desperate need of a Doctor Aphra movie or Netflix series.
The Rest:
Nailbiter #27 -
It has been almost 48 hours since Finch was taken and Sheriff Crane just found out. In addition to that, Agent Barker has escaped and it doesn't appear to be safe in Buckaroo for Crane or her daughter. Joshua Williamson has done a great job developing these characters throughout the run, that there are many loose ends to tie up with each issue. The most terrifying aspect of this issue, in my opinion, was the scene were Finch appears to be coerced into becoming a killer via torture. Whoever took him has plans for Finch and then wants the mystery of Buckaroo to vanish forever. With the FBI investigating the underground tunnels and temple, I hope we discover it before it burns.
Batman #12
- I had my doubts with the latest arc, but Tom King just delivered my favorite Batman issue in quite some time. Set to a letter that Batman wrote Catwoman when she was in Arkham, the scenes of Batman infiltrating Bane's fortress while he contemplates his very existence is almost soothing. Batman waxes philosophically on life and death and he fights his way through endless thugs only to end up in Bane's throne room ready for a final confrontation. The juxtaposition of Batman discussing how vulnerable he is in a heart felt letter against the violence that he is dishing out works extremely well. Definitely a must read title.
POSTED BY MIKE N. aka Victor Domashev -- comic guy, proudly raising nerdy kids,
and Nerds of a Feather contributor since 2012.